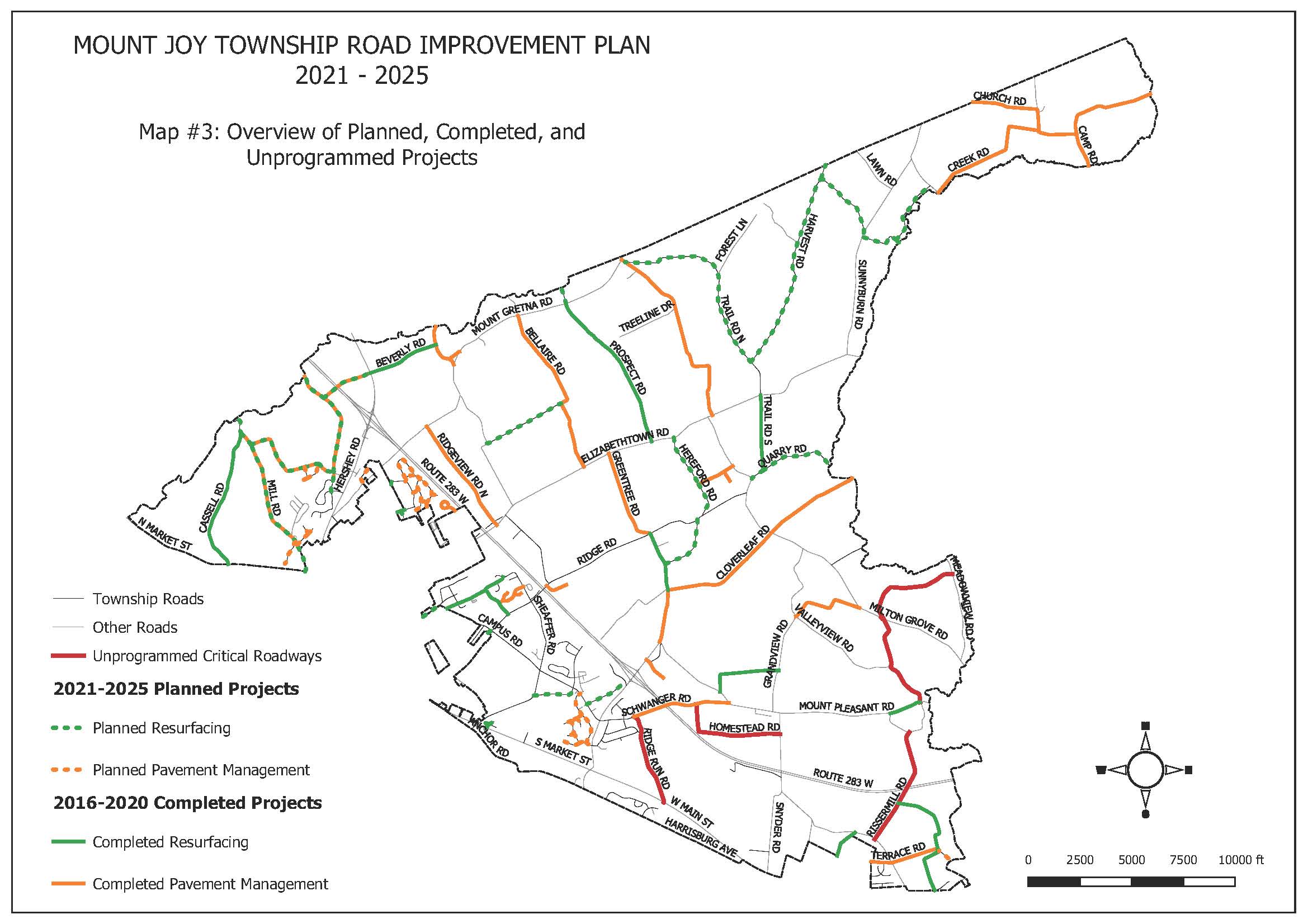 As the year 2020 comes to a close, Mount Joy Township has its sights set on an expansive 2021 road work program. We recently finished laying out a plan for road projects in the five-year period starting in 2021. The plan progresses the work done in recent years while recognizing the number of issues still outstanding. Fortunately, significant progress has been made in recent years to reduce the significant backlog of road and drainage projects. The map below is a snapshot of work completed from 2016-2020.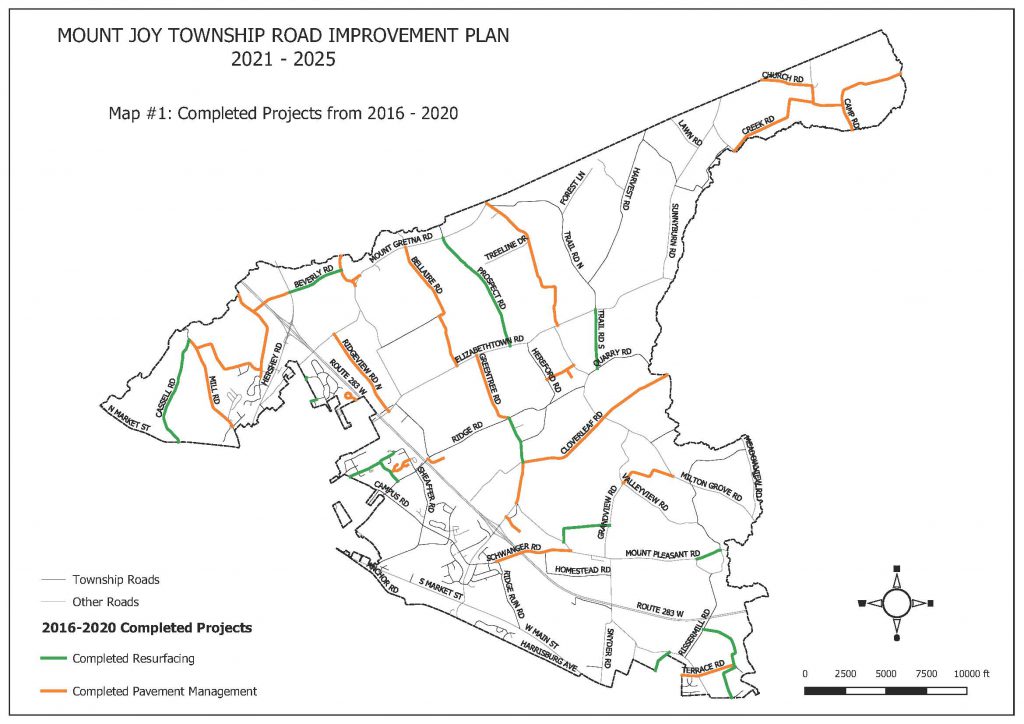 In 2018, the Township Board of Supervisors asked for a five-year road improvement plan to guide our priorities and spending during the 2019-2023 period. That plan came with the goal to regularly update the plan to maintain a five-year outlook. This enables us to keep a full work program for the period while leaving flexibility in the later years as conditions may change. Quite a few adjustments were needed throughout 2020 to finalize the update for 2021-2025 in order to progress the original work plan while acknowledging a revenue decline for 2021 and 2022. Despite the anticipated COVID-related financial shortfall, Mount Joy Township is proud to keep our road repair progress moving forward!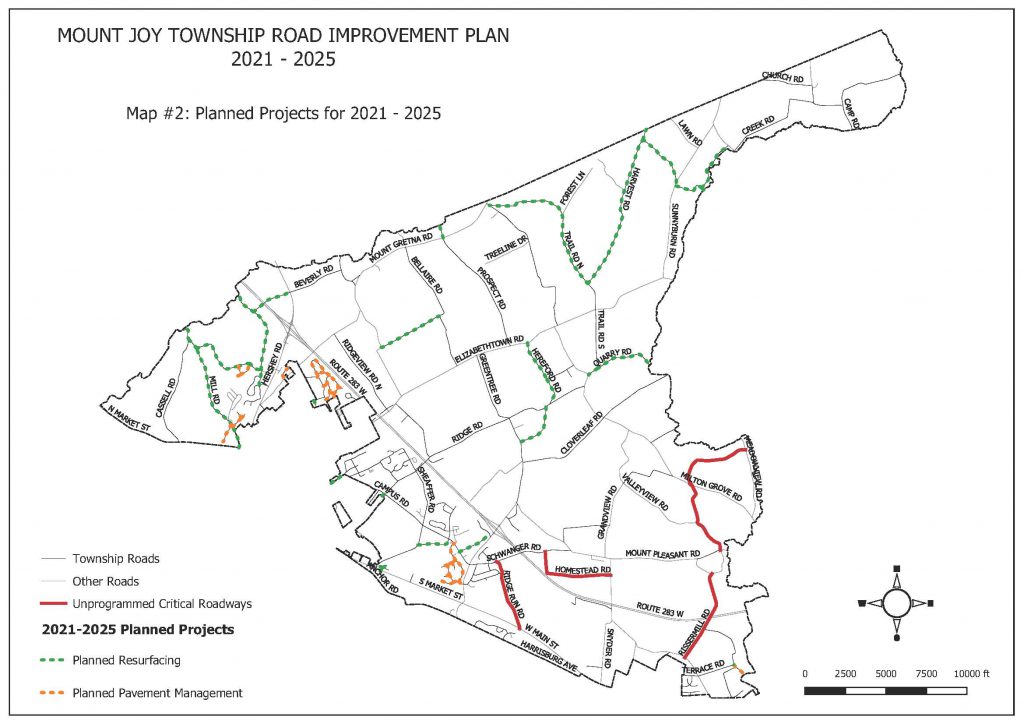 The map above summarizes our planned repairs, resurfacing, and pavement management projects for the upcoming five-year period. Click to view or download the 2021-2025 Road Improvement Plan and Budget Spreadsheets to see the details. A quick summary, by the numbers:
Reclamation & widening – 1.24 miles
Widening – 8.46 miles
Resurfacing (overlay) – 8.82 miles
Although the 2021-2025 plan must be aggressive to address the Township's 65 miles of roads in a systematic fashion, we recognize there will be a number of outstanding issues left unaddressed. Those unprogrammed critical roadways – like Rissermill Road, Ridge Run Road, and Homestead Road – must be considered in the next version of the plan. We intend to prepare a 2023-2027 plan update starting in early 2022, so direct any comments, questions, or suggestions to Township Manager Justin Evans.