Milanof-Schock Library Community Yard Sale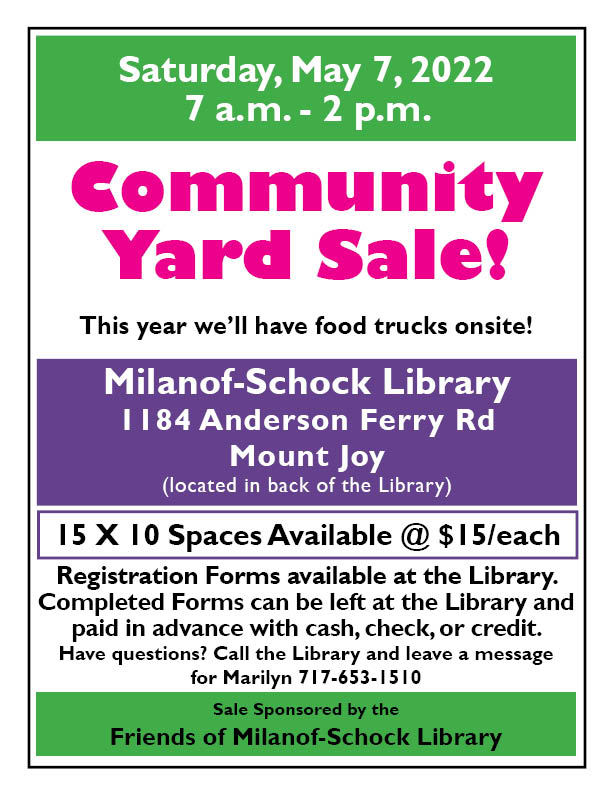 This event has ended
Date

May 7, 2022

Time

7:00 am - 2:00 pm
The Friends of Milanof-Schock Library will be hosting their annual Community Yard Sale behind the Library on Saturday May 7 from 7am to 2pm.
Anyone interested in renting a 15' X 10' space to sell items, please call the Library and leave a message for Marilyn. This is a perfect opportunity for anyone who is self-employed (Pampered Chef, Young Living, etc.); artists; Poshmark, Etsy shops, and Ebayers; people who don't have space to have their own yard sale. Proceeds from the space rentals benefit Milanof-Schock Library.
In addition to finding bargains, shoppers can purchase breakfast or lunch from onsite food trucks. The Chubby Unicorn and Caffeination Station will be available from 7am-10:30am and The BBQ Trough LLC will be onsite from 10:30 to 2pm.
Please visit the Library's website www.mslibrary.org for information about programs, events and all other Library services. Follow them on Facebook and Instagram to keep up-to-date with what's going on at the Library.